Little Woolden Moss 'recovering' after peat extraction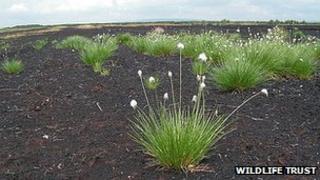 Peat bog land in Greater Manchester has recovered from commercial extraction in a "remarkably short time", Lancashire Wildlife Trust said.
The trust bought 264 acres of Salford's Little Woolden Moss, part of Chat Moss, in August and began a project to "conserve and restore" it.
Project manager Dr Chris Miller said he was amazed by the speed of recovery.
"While the plants are not ideal, they have taken over areas of bare peat in a remarkably short time," he said.
Little Woolden Moss is part of a larger area of peat bog land which has been subject to commercial peat extraction for the past 15 years.
Salford City Council refused permission for extraction to continue in June and a ruling by the Secretary of State for Communities and Local Government over future extraction, following a public inquiry, is due later in the year.
A spokesman said the trust planned to turn Little Woolden Moss into a nature reserve and provide access for walkers and naturalists to watch the moss land return and then "appreciate the wonderful wildlife this will bring".
He said wildlife had already begun to return to the area, with roe deer, brown hares and a wide variety of birds, including peregrine falcons, hobbies and kestrels, being spotted on the moss land.
Dr Miller said that where the peat extraction had finished, the trust was "finding carpets of purple moor grass".
"This will be removed eventually and replace by moss land plants - like sphagnum moss," he said.
He added that there were also areas of cotton grass, which he said were "a common sight on moss lands".
"If you look at the dry peat beneath your feet, you will see traces of 3,000-year-old cotton grass," he said.
The trust has used grants totalling around £1m from the Heritage Lottery Fund (HLF) to buy the land and fund the conservation work.
HLF's Sara Hilton said it was "a hugely important area of lowland raised bog".
She said the HLF was "delighted to support the work to conserve and restore its unique character while helping the wider public to appreciate its significance".