Man cleared of glassing Manchester bar owner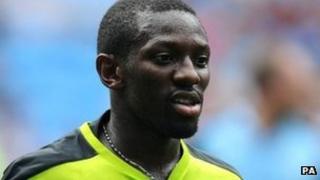 A man has been cleared of glassing a Manchester bar owner in a fight sparked when a young woman slapped a Premier League footballer across the face.
Winston Wilson, 38, had denied the attack on Joe Akka, the owner and manager of Panacea, in November 2010.
Shaun Wright-Phillips, who played for Manchester City at the time, was hit by a woman before a fight broke out.
Mr Wilson was found not guilty of wounding and wounding with intent at Manchester Crown Court.
The court heard that after Mr Wright-Philllips, who now plays for QPR, was struck, pushing and shoving broke out. The violence escalated as bouncers moved in to break it up.
Mr Akka had tried to restore order at the club, in John Dalton Street, but was glassed in the face.
He was left with a scar running the length of his left cheek following plastic surgery.
Mr Akka told the jury he would "never forget" the face of the man who attacked him and pointed out Mr Wilson at an identity parade.
Mr Wilson, of Hever Avenue, Birmingham, told the jury he acted only as a "peacemaker" during the violence and denied the attack.