Manchester Ship Canal repairs halt falling water level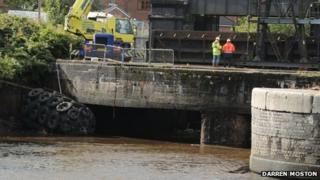 A damaged lock gate, which led to lower water levels in the Manchester Ship Canal, has been repaired.
A 40ft tree damaged a sluice gate at Latchford Lock near Warrington, which forced engineers from the Manchester Ship Canal Company to lower the water.
A team of engineers had been working on the sluice gate since Friday and repairs were completed on Saturday.
Alan Feast, Deputy Harbour Master, Manchester Ship Canal said water levels should be back to normal by Monday.
"A substantial amount of debris has been washed in to the canal following unusually heavy rain this week," he said.
"This includes a 40ft tree which has caused some damage to the sluice gates at Latchford Lock."
The Environment Agency had been monitoring the impact of the falling water level on fish.