Manchester police killings: Call to end 'family feud'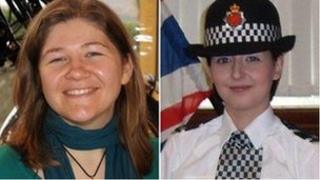 Police investigating the deaths of two officers in Greater Manchester have called for an end to a feud between "criminal families".
Assistant Chief Constable Garry Shewan said the deaths of PCs Fiona Bone and Nicola Hughes was a "watershed moment".
Police have confirmed a man arrested on suspicion of conspiracy to commit murder on Wednesday is Stephen Garvey, 28.
A property linked to Mr Garvey is a short distance away from the shootings.
The BBC understands that, among other things, Mr Garvey's arrest concerns the phone call that was made to report a burglary.
That phone call resulted in the two policewomen being sent to the address where they were shot.
Suspicion of murders
A post-mortem examination confirmed that PCs Bone and Hughes were shot dead in the attack in Mottram, Tameside, on Tuesday morning.
Dale Cregan, 29, was arrested by police on suspicion of their murders.
Mr Cregan was also arrested on suspicion of the murders of Mark Short in May and David Short in August.
Police are investigating whether the murders of the officers is linked to a dispute between the Short family and another unnamed family.
The force is looking into a theory about whether an alleged assault on a woman in the unnamed family led to an escalation in violence involving firearms and explosives.
Police have been given until Friday morning to question Mr Cregan in relation to all four deaths.
During a visit to the scene of the killings, GMP Chief Constable Sir Peter Fahy said the force was in discussions with the Crown Prosecution Service and that he anticipated "charges within 24 hours".
ACC Shewan said that while he would not portray the shootings as "gang warfare", events over the past six months "show how we need to investigate the role that that feud took in determining the outcomes that we have seen".
He said: "This is a feud between two criminal families and that feud is being investigated as part of the investigation into the shocking events of Tuesday.
"I would say the strong message that GMP has been using for the past six months has been: Enough is enough, this has to end."
Mr Shewan added the force had issued threat-to-life warnings - notices given to people under threat of being murdered or seriously injured sometimes called "Osman warnings" - to a large number of individuals as a result of the officers' deaths.
Sir Peter, along with other senior officers, visited Mottram to lay flowers alongside dozens of other bouquets at a makeshift shrine close to the scene of the double killing.
He said PCs Bone and Hughes were "wonderful human beings" and "dedicated officers".
He said the pair's families had been "overwhelmed by the huge support they are getting right across the country [which is] a huge comfort to them in a very difficult time".
He added that an online campaign had been started by police officers around the country offering to work for GMP on the day of the dead officers' funerals to allow all their GMP colleagues to attend the services.
Earlier, after meeting residents in a community centre on the Hattersley estate, shadow home secretary Yvette Cooper said: "I think obviously they have been very shocked and frightened by what has happened, but I think the strong feeling everyone has now is that they want justice to be done for the officers who have been killed.
"And everybody I think believes the criminal investigation by Greater Manchester Police is the priority now, to get to the bottom of this."
Meanwhile, a 22-year-old man has been arrested after a Facebook page was set up lauding Mr Cregan as a "legend".
The man, from Netherley, Merseyside, is being questioned over a "tribute" which went online within hours of the deaths of PC Hughes, 23, and PC Bone, 32.
Mr Cregan was arrested when he walked into Hyde police station a short time after the shooting in Mottram.
He had been on bail following the shooting of Mark Short, 23, at the Cotton Tree pub in Droylsden, on 25 May and was the subject of a huge manhunt after the murder of David Short, 46, Mark Short's father.
On 10 August, David Short was killed at his home in Folkestone Road East, Clayton, after describing his son's killers as cowards. He was found dead after an explosion was heard.
Meanwhile, The BBC has shelved the final episode of drama Good Cop following the deaths of the police officers.
The episode, due to be screened on Thursday, features a violent attack on a female police officer.
"In light of news events, BBC One has postponed the final episode of Good Cop, due to transmit at 9pm tonight," the BBC said in a statement.