Manchester police killings: Families pay tribute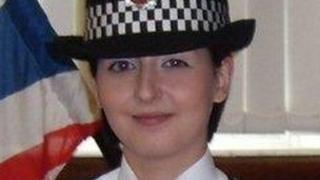 The families of two police officers killed in a gun attack in Greater Manchester have paid tribute to them.
PCs Fiona Bone, 32, and Nicola Hughes, 23, were fatally injured when they responded to reports of a burglary in Mottram, Tameside, on Tuesday.
PC Bone's family said they had lost "a wonderful daughter, sister, partner and parent".
The family of PC Hughes described her as a "very caring and loving girl" with an "infectious personality".
"Nicola was our only daughter and a beautiful child," the Hughes's family statement read.
"She was always happy with life and lived for her family.
"She had an infectious personality and sense of humour and was a very caring and loving girl."
'Exceedingly proud'
PC Hughes joined Greater Manchester Police (GMP) in 2009 and lived in the Oldham area with her mother.
The statement added: "Nicola always wanted to make a difference and, in doing so, she made such a big difference to everyone she knew.
"Nicola was only 23 years-old and had the whole of her life in front of her.
"We cannot express how we feel today except to say we have always been exceedingly proud of Nicola and always will be. She knew she was loved by us all and we shall all miss her dreadfully."
PC Bone lived in Sale with her partner Clare, with whom she was planning a civil ceremony wedding, and Clare's daughter Jessie. She had served with GMP for five years.
Her family said: "Our family have lost a wonderful daughter, sister, partner and parent to Jessie.
"Fiona enjoyed life to the full from her days with the Air training corps, rugby at university, to her service with the police.
"She was planning her marriage to Clare and this joy has been taken from us."