Mottram community mourns deaths of two police officers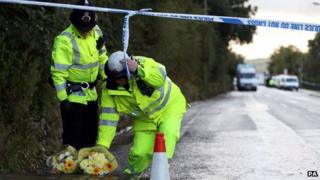 The residents of Ashworth Lane in Mottram are a community in mourning.
On Tuesday, they woke up to life on "a normal street", only for that normality to be broken by the killing of two police officers on their doorstep.
A day later, the road was cordoned off with police tape, a sea of media trucks had descended and a pile of flowers paying tribute to PC Fiona Bone and PC Nicola Hughes was steadily growing.
As that makeshift memorial grew, a short distance away, around 100 parishioners gathered for a special service and to say prayers at St Barnabas Church.
Linda Hamnett, a local resident, summed up the mood with one statement.
"Everybody's different - usually it's quite noisy, but it's quiet and everyone's in shock," she said, outside the church.
Down the road from the church is the house on Abbey Gardens where the two officers were ambushed.
Two police tents now cover the scene.
Nearby, an off-duty officer who lives in the area but did not want to be named, laid her own floral tribute to her two fallen colleagues.
Fighting back tears, she said the deaths were "a real shame" and "terrible for the area".
"I've lived here for quite a while now and I didn't think it was like this," she said.
However, she added that while it was "a bad thing that's happened, this could have happened anywhere".
Window cleaner Warren Shepherd, who was working nearby, heard the gunshots and the explosion which killed the two officers.
He said: "It's just a normal estate - families, old people, young couples - there's a good community spirit.
"There'll be a lot of talking about it and it's very sad for the people who died, but you just have to get on."
Special prayers were said for PCs Bone and Hughes at the service at St Barnabas Church led by Revd Lesley Harding and Revd James Halstead.
Two candles were lit on the altar - one for each officer.
Arriving, the parishioners said they were "shocked and devastated" at the killings, saying they could not believe what had happened.
Paying respects
Revd Halstead said it had been "a very strange 24 hours".
"People have been shocked and stunned, but over the next few days and months, this community will do exactly what this community is good at - looking out for one another and looking after one another."
Local councillor Adam White, who attended the service, said he was not sure if what had happened had "sunk in".
However, he said he was sure the community would bounce back from what had happened and was proud of how it had reacted so far.
"People came out in the dark last night, in the pouring rain, to stand and pay their respects to two young women who lost their lives.
"That's what kind of community this is."