Manchester police killings: Dale Cregan was on bail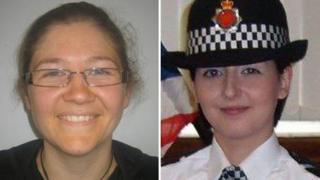 A man suspected of killing two PCs in Greater Manchester was on bail over a fatal pub shooting, police have confirmed.
Nicola Hughes, 23, and Fiona Bone, 32, were killed in a gun and grenade attack after apparently being lured to Mottram by a hoax burglary report.
Dale Cregan is being held on suspicion of their murders and two others.
In June, Mr Cregan, 29, was questioned over the shooting of Mark Short in a Manchester pub and released on bail.
Detectives are continuing to question Mr Cregan, previously described as Manchester's most wanted man, over the deaths of PCs Hughes and Bone.
The police constables had been sent to investigate what appeared to be a routine burglary report in Abbey Gardens, Mottram, on Tuesday morning when they were attacked with a gun and grenade.
Greater Manchester Police said it appeared they had been deliberately "drawn" to the scene.
A minute's silence for the officers was held earlier.
In a statement, Chief Constable Sir Peter Fahy said there had been insufficient evidence available to charge Mr Cregan over the pub shooting and he had to be released.
Mark Short, 23, was shot dead at the Cotton Tree pub in Droylsden, Greater Manchester, on 25 May. In June, Mr Cregan was arrested in connection with this death.
Sir Peter said: "It is absolutely normal in complex crime inquiries that when people are arrested there are occasions where there is insufficient evidence available for them to be charged.
"In those circumstances suspects have to be released on bail as there are strict time limits covering how long suspects can be held in custody without charge.
"That is exactly what happened in this case."
Mr Cregan was arrested when he walked into Hyde police station a short time after the shooting in Mottram on Tuesday.
Sir Peter said he believed he had been "protected by a criminal conspiracy to harbour him".
Two people from the Abbey Gardens house, a man and a woman, continue to be questioned.
Home Secretary Theresa May is cutting her holiday short to travel to Manchester for a meeting with the chief constable.
The Queen has paid tribute to the two murdered police officers.
The Lord-Lieutenant of Greater Manchester released a letter she had written to Sir Peter.
The Lord-Lieutenant's office said: "In a letter to the Chief Constable of Greater Manchester, Sir Peter Fahy, Her Majesty expressed her sincere condolences to the families of PC Nicola Hughes and PC Fiona Bone at the tragic loss of their lives."
Sir Peter has said Tuesday was one of the "darkest days" in the history of the police service.
Describing the killings, he said it was "absolutely devastating... it felt like just a nightmare yesterday... that we hoped we'd wake up from but of course we didn't".
He said PC Bone, originally from Castle Donington, Leicestershire, had been a "calm, gentle woman", an "excellent bobby" and had been in the middle of planning her wedding.
She moved with her family to the Isle of Man in 1997, before studying for a degree at the University of Central Lancashire in Preston.
The chief constable paid tribute to PC Hughes, from Oldham, describing her as a "chatterbox" and a "great bobby" who was always smiling.
PC Hughes's family paid tribute to their "beautiful child", who loved her job as a police officer.
"Nicola always wanted to make a difference and, in doing so, she made such a big difference to everyone she knew. She cared about everyone, especially her colleagues."
Assistant Chief Constable Garry Shewan said Tuesday had been "the hardest and most upsetting day" of his career.
"I want to publicly thank those who have taken time out to pay tribute to Fiona and Nicola and pass on their kind words of support, love and condolence," he said.
"Two hard-working and brave young women did not go home to their loved ones as a result of a calculated and malicious plan.
"We are determined to bring each and every person involved in this incident to justice."
PC Bone's father Paul has called for the death penalty for anyone convicted of murdering a police officer.
The incident has prompted renewed calls for the routine arming of police.
But Sir Peter said his force believed "passionately" that officers should remain unarmed, despite the tragedy.
Association of Chief Police Officers president Sir Hugh Orde also warned against a rush to routinely arm officers.
"You only have to look at the American experience. Many colleagues in America are lost without even drawing their gun at close ranges," he said.
The Greater Manchester force has opened a book of condolence for the dead policewomen on its website.
Police said 2,600 messages had already been left, many from fellow officers from forces across the UK.
A book of condolence has also been opened at Hyde Town Hall.
Officers and staff at Greater Manchester Police headquarters held a minute's silence to remember the officers.
About 100 people attended a service in St Barnabas Church, Hyde, earlier during which a candle for each officer was lit at the altar.
Manchester United announced its players would wear black armbands during their Champions League match against Galatasaray at Old Trafford later, as a mark of respect.
Manager Sir Alex Ferguson said: "We are all deeply saddened by the tragic loss of two young policewomen protecting our community.
"Fiona and Nicola were highly valued members of Greater Manchester Police and the local community.
"Our thoughts and prayers are now with their families and friends at this devastatingly sad time."
Mr Cregan had been the subject of a huge manhunt after the murder of David Short, 46, Mark Short's father. A £50,000 reward was offered for information leading to his arrest.
On 10 August, David Short was killed at his home in Folkestone Road East, Clayton, after describing his son's killers as cowards. He was found dead after an explosion was heard.
Four men have already been charged in connection with Mark Short's murder and are due to enter pleas at Manchester Crown Court in November.
A 33-year-old man and a 24-year-old man have been charged with the murder of David Short.
Mr Cregan is now being questioned about the deaths of David and Mark Short, as well as the murders of the two police officers.