Bishop of Manchester Nigel McCulloch to retire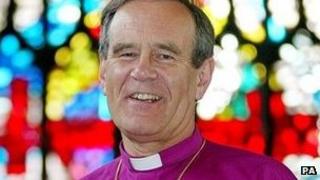 The Bishop of Manchester has announced he is to retire.
The Right Reverend Nigel McCulloch, 70, is stepping down after 10 years in the role.
His final formal thanksgiving service will take place at Manchester Cathedral on 25 November, though he will remain Bishop of Manchester until 17 January.
Bishop McCulloch said it had been "a privilege" to be part of the diocese, which serves Greater Manchester and Rossendale.
'Business as usual'
"Until my retirement it is business as usual," he said.
"I have greatly enjoyed my time serving the cities, towns and smaller communities that make up this vibrant and diverse Diocese of Manchester - and will miss being with the many people of Christian faith, other faiths and no faith, whom it has been my privilege to know."
He has been a Church of England bishop for 27 years.
The bishop recently completed a pilgrimage which saw him visiting every church and community in Greater Manchester.
He will retire to Grange-Over-Sands with his wife Celia.