Photos of Manchester's WWI 'unsung hero' tunnellers found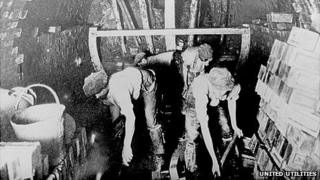 Unseen photos of Manchester's Edwardian sewer builders, who became known as the "First Moles" due to their WWI tunnel digging, have been found in the city.
The workers took part in the first WWI missions after tunnelling was suggested as a way of attacking German trenches by Manchester's drainage contractor.
The pictures, which were found in United Utilities' archives, show the engineers at work in the city in 1912.
The water company's Ian Fullalove said the photos were "a real eye-opener".
Clay-kicking
The pictures show Manchester engineers constructing sewers in the south of the city under Didsbury and Chorlton-cum-Hardy.
A United Utilities spokeswoman said it was because of their work in this area that the Manchester Corporation contractor, John Norton-Griffiths, suggested the idea of a tunnelling corps to the British Army.
"His workers were expert at digging through the heavy clay soils of Manchester, very similar to the ground conditions in northern France," she said.
"Their technique was called clay-kicking [and] involved sitting on sandbags and using the strength of the legs to lever the clay out with sharp spades.
"Not only was it quieter than using pickaxes, the sitting position allowed small tunnels to be built quickly, an ideal solution to take the enemy unawares."
'Unsung heroes'
She added that once they were deployed to Givenchy in northern France, they played "a critical and highly dangerous role in the conflict".
"Their pioneering techniques led to the construction of some 3,000 miles of underground passages beneath no-man's land."
Mr Fullalove, United Utilities' wastewater network manager, said he was not surprised their "highly skilled" work got them noticed by the military.
"Although the conditions these sewer builders had to endure were so very basic, the quality of the workmanship was so good that a lot of the infrastructure is still serving us well today," he said.
"I had never heard the story that many of these engineers later gave their lives while serving on secret tunnelling missions during the First World War - they really are our unsung heroes."