Peter Pan book given to charity shop makes £1,700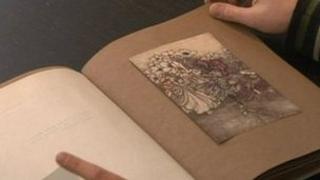 A rare first edition of a Peter Pan book donated to a charity shop has fetched £1,700 at auction.
JM Barrie's Peter Pan in Kensington Gardens was in a bag of books and bric-a-brac left anonymously at the Oxfam Book Shop in Alderley Edge, Cheshire.
Simon Fox from Bury, who has two sons, was the winning bidder for the 1906 limited edition book auctioned at the Alderley Edge Community Book Festival.
He said he bought it partly for their pleasure and as an investment for them.
The 37-year-old father of Jack, seven, and Nathan, five, said: "I bought the book partly because I've got two young lads who are really big on Peter Pan, but also as an investment.
"In the future [they] will go to college and this rare book could help them paying for their education in the future."
The book is illustrated with 50 colour plates by illustrator Arthur Rackham, who had signed it.
Emma Joy, who manages the Oxfam shops in Cheshire, said there were "dozens" of bidders for the book which was auctioned by antiques expert Adam Partridge.
She said: "We had a lot of interest in this book. We even had a bidder from Marbella."