Daniel Whiteley attempted murder: Manchester trio jailed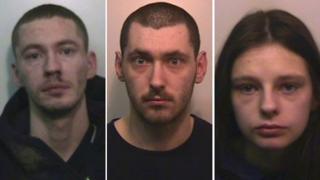 Two Manchester men have been jailed for the attempted murder and robbery of a student they left for dead in a drainage ditch in a Manchester park.
Michael Brownlie, 26, and Nicholas Lindsay, 22, both from Longsight pleaded guilty to the attack on Daniel Whiteley, 19, from Barnsley in March.
Brownlie and Lindsay were sentenced to 18 years at Manchester Crown Court.
Katie Mongan, 18, also of Longsight, admitted causing grievous bodily harm and was detained for seven years.
'Severely beaten and kicked'
All pleaded guilty to robbery.
Sentencing the trio, Judge Robert Atherton told Mongan: "You hurt him and you meant to do really serious harm."
Addressing Brownlie of Erneley Close and Lindsay, of Aked Close, he said: "You did not leave it at that. You went on and tried to kill him.
"It is quite clear he was severely beaten and kicked. You thought he had died and that is what you intended."
The trio, who had been drinking alcohol all day, frog-marched the student to Platt Fields Park and forced him to hand over his bank card and pin number in the early hours of 28 February.
They then kicked and stamped on the first year University of Manchester English student and Lindsay threw him unconscious over a fence and dumped him in a freezing stream.
The attackers fled and withdrew cash from his account.
Groans heard
They had met Mr Whiteley by chance as he ate in a takeaway in Fallowfield after a night out with fellow students.
Mr Whiteley was approached by Mongan for cigarettes but said he had none to give.
She verbally abused him and staff asked her to leave the shop.
The student later bumped into them and was again verbally abused by Mongan, told to hand over his watch and shoved into the nearby park where they battered him.
A passing cyclist heard his groans from the stream several hours after the attack and Mr Whiteley was pulled out of the water by paramedics.
He had suffered extensive bleeding to the brain and underwent life-saving emergency surgery.
Other injuries included a collapsed lung, swellings so severe over both eyes they could not be opened and a footprint bruise to his forehead.
Det Insp Terry Crompton said: "These three callous individuals dragged him to a secluded area of the park, subjected him to this horrific assault, robbed him and then threw him down a culvert with no second thought as to what would happen to him.
"Thankfully Daniel has gone on to make a remarkable recovery following this traumatic ordeal and the defendants are now beginning lengthy sentences for a cowardly, vicious and unnecessary attack."
After sentencing Mr Whiteley's father Michael said the sentences were "richly deserved given the vicious, senseless and sustained attack on our son".