Rochdale Council proposes £45m budget cut and 200 job losses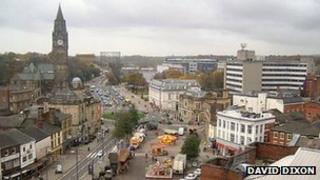 Rochdale Council has announced plans for cuts of £45m to its budget and 200 job losses by 2015 in "response to government funding reductions".
A spokesman said the measures, which would begin in April 2013, were also due to "increased demand for services".
The council is currently coming towards the end of an existing plan to cut £94m from its budget by March 2013.
Leader Colin Lambert said the "severe cuts" meant people "would not recognise the services delivered by the council".
The new proposals include a £14.6m saving in the Adult Care and Children, Schools and Families departments, which would see changes to eligibility criteria, a review of youth services and increased charges for non-residential services.
Also proposed are a £2.7m cut in the Customers and Communities Services department and a £2.5m reduction for the Property, Highway and Support Services department.
'Immediate impact'
Mr Lambert said the cuts were "severe and they are going to hurt" and that compulsory redundancies could not be ruled out.
"Whilst we will seek to protect the quality on level of service, it is inevitable that when you are in a second round of cuts, some services will either cease or not be available as they were before," he said.
"[For example] we will not be reducing the collection of the bins, but you will see less grass being cut and streets not being cleaned as regularly as they have been.
"You will see an immediate impact on the things that we all see every day and that will have an impact on people and how they are feeling."
He said the proposals for changes to care services would "seek to protect the vulnerable, but some of the lower level will have to be charged for or not be delivered".
The proposals, which will be open to public consultation until 12 December, also include a recruitment freeze and voluntary redundancies.