Greater Manchester Police release 'most wanted' list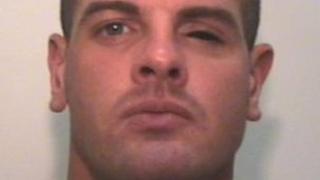 Police have released a list of Greater Manchester's most wanted criminals.
The gallery includes 29 men and three women wanted in connection with crimes including murder, burglary, robbery and domestic abuse.
Greater Manchester Police said its main priority was to find Dale Cregan, from Droylsden.
Mr Cregan, 29, is wanted in connection with a gun and grenade attack that killed David Short in Clayton on 10 August.
He is also wanted in connection with the death of Mr Short's son Mark, who was killed in a shooting at the Cotton Tree pub, in Droylsden, on 25 May.
'Bad apples'
Officers said Operation Harvest would include a number of crackdowns which would see criminals targeted "in their homes, communities and on the roads".
Assistant Chief Constable Terry Sweeney said: "Through Operation Harvest we are concentrating on bringing to justice the criminals that cause the most harm and misery to people in our county.
"We want to remove the bad apples that are spreading their rot around our communities."
The operation is also targeting dangerous drivers, metal thieves and people wanted for drugs offences.
The full list can be seen here http://www.flickr.com/photos/86727363@N04/