Jesuits return to historic Holy Name Church Manchester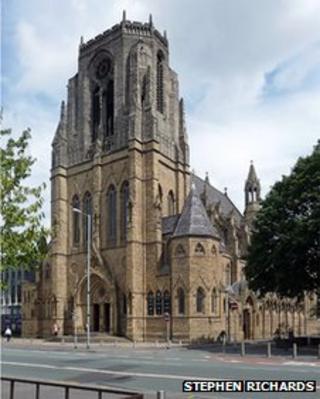 A religious order, which built one of Manchester's most historic Roman Catholic churches, is returning 20 years after it left the building.
The Jesuits are coming back to run the Roman Catholic Chaplaincy for the University of Manchester from the Holy Name Church on Oxford Road.
The order withdrew in 1992 replaced by priests and brothers hoping to form the Manchester branch of the Oratory order.
This group, led by Fr Ray Matus, will move to St Chad's in Cheetham Hill.
Fr Dermot Preston SJ, the British Jesuit Provincial, said: "The Jesuits are delighted to be returning to the Catholic Chaplaincy at Manchester University. Ministry to young people has always been at the heart of Jesuit values."
Fr Matus kept Holy Name as a place of worship, when the Jesuits, left with the hope of forming a Manchester Oratory to follow those in Birmingham, Oxford and the Brompton Oratory in London.
Unlike other Catholic religious orders, the Congregation of the Oratory need permission from the local bishop and the Vatican to set up new foundations in every town.
Bishop Terence Brain of Salford never gave permission for The Oratory at Holy Name because the church was still owned by the Jesuits. Fr Matus and companions had to lodge in the chaplaincy building.
The bishop said moving to St Chad's in the Cheetham Hill area of the city would "enable the Oratorian community to firmly establish itself".
Vicar In a Tutu
Bishop Terence Brain of Salford added that he welcomed the return of the Jesuits to Manchester.
Holy Name was built by the Jesuits in 1871 and the Grade One Listed building was designed by Joseph Aloysius Hansom, whose other works include Birmingham Town Hall and several other cathedrals. He was also the inventor of the Hansom cab.
The city's biggest church was immortalised in the lyrics of the song Vicar In a Tutu by Manchester band The Smiths with the words, "I was minding my business lifting some lead off the roof of the Holy Name church".
It is also a regular place of worship for Manchester City boss Roberto Mancini.