David Short murder: Dale Cregan urged to surrender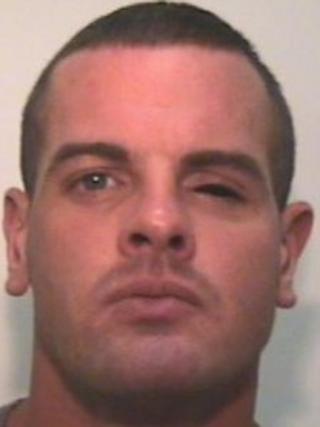 A murder suspect on the run from police over a grenade attack in Manchester has been urged to give himself up.
Dale Cregan, 29, is wanted in connection with the attack that killed David Short in Clayton on 10 August.
Police said armed officers would patrol the area and visits to his family would continue until he is found.
Anthony Wilkinson, 33, who was also wanted by police in connection with the murder was arrested in a park in Openshaw on Sunday.
Greater Manchester Police offered a reward of £50,000 to anyone who supplied the force with information that led to the arrest of Mr Wilkinson and Mr Cregan.
'Safe resolution'
Hundreds of officers have been searching for them since Mr Short was found dead at a house in Folkestone Road East, Clayton, after a blast at 10.30 BST on 10 August.
A second home was targeted in Luke Road, Droylsden, minutes later, but no-one was injured.
Mr Cregan is also wanted in connection with the death of Mr Short's son Mark, who was killed in a shooting at the Cotton Tree pub, in Droylsden, on 25 May.
Ass Ch Const Steve Heywood said: "We have got an awful lot of armed police on the street of Droylsden and Clayton and that will continue.
"There will be an awful lot of visits to his friends and family, they will continue.
"What I would like to do is get to a safe resolution where Mr Cregan understands that he has a number of options to consider and he needs to take one of those."