Spade found on Saddleworth Moor 'cannot be linked' to Ian Brady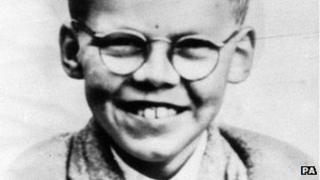 A spade found during a hunt for the body of a victim of Moors Murderer Ian Brady cannot be linked to the killer, an expert has said.
The tool, found buried on Saddleworth Moor by a group searching for Keith Bennett's remains, has undergone tests at Manchester Metropolitan University.
Forensic expert Steve Kershaw said he had been unable to trace its history.
Keith Bennett is the only one of Brady's five victims whose remains have never been found.
Ian Brady and Myra Hindley murdered five children between 1963 and 1965.
The bodies of three of them were buried on Saddleworth Moor near Manchester, while one was found at Brady's home.
Police abandoned the hunt for Keith's body in 2009 and officers said they would need fresh evidence to resume the search.
His mother, Winnie Johnson, fought a long campaign to get Brady to reveal the location of her son's body, but she died in August without ever receiving the information.
The day before her death, police said they were looking at claims Brady had revealed details about Keith's grave to his mental health advocate.
'Very, very corroded'
The spade, which has no handle, was found by members of Worsley Paranormal Group, who had been searching the area for signs of Keith's remains.
It was passed to Mr Kershaw, who is the university's Senior Lecturer in Forensic Analytical Science, for analysis.
He said that despite extensive testing, he had been unable to discover its origin, as it was "very, very corroded".
"Even if we had lots more time and even if we had established that it was a spade from the 60s or pre-dated the 60s, we would not have necessarily established if it was anything to do with Ian Brady," he said.
"The only way we would have been able to tell is if it had DNA on it and that is harder to tell with the handle gone [and] it being so corroded.
"Although some vegetation has survived [on it], there is very little chance of DNA having survived."
A spokesman for Greater Manchester Police said the force had not received any information about the spade.