Dig Greater Manchester sees hundreds hunt treasure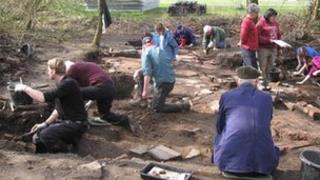 "A lot of people have become hooked - it's so exciting when you find something that was dropped by people hundreds of years ago and you're the first to touch it since."
University of Salford senior archaeologist Brian Grimsditch explained why the Dig Greater Manchester project's archaeological excavations have proved so popular the volunteer places are now over-subscribed.
Hundreds have been giving up their free time to dig for historical treasure in the first of a series of digs across the county, aimed at getting the community involved in discovering and recording its own past.
The first dig, involving more than 200 volunteers and children from 10 local schools, took place in March at the site of Etherstone Hall in Leigh, Wigan, a mansion built in the 1840s and knocked down about 30 years ago.
The dig allowed important archaeological detail to be recorded, such as the construction methods and a map of the layout, but the real excitement came when a Bisque china doll was unearthed and pieces of two nursery rhyme plates.
Plate find 'inspired'
Mr Grimsditch said: "We had a photo of two small girls stood outside the house, so it was nice to be able to link these artefacts to them.
"People love to find the archaeology but it's the things that people have touched in the past that excite people.
"Finding the nursery rhyme plate spurred people on, many that came to that dig came back to the next, it really inspired them."
One volunteer, Lorraine Gregory, said: "It was really nice to find the whole plate, it gives a human element so you know you're not just digging the dirt, people did live there."
Ms Gregory 54, of Fenton, near Hyde, volunteered for a dig on a different project four years ago and became hooked.
She said: "I saw an ad in the local newspaper and went along, I've always been interested in history.
"When you're on a dig you never know what you're going to find, that's what keeps you digging."
Extra volunteer places had to be made available for the second dig, at Radcliffe's Close Park, which uncovered the remains of the estate of a family who ran Mrs Bealey and Sons' bleach works factory, as well as a row of terraced cottages housing factory workers.
The mansion, built in the late 18th Century, was later used as a post-natal medical centre and baby bottles from a 20-year period were found at the site, along with pottery.
In the back yard of one of the cottages a Catholic Children Of Mary medallion, given to children on joining the religious Sisters of Charity society, was found and some census research narrowed down the owner to one of just a couple of families.
Dr Mike Nevell, head of archaeology at Salford University's Centre for Applied Archaeology, said: "This object was certainly a highly personal item for a young adult, probably a girl, living at the end of the 19th Century.
"Such a personal religious item is a highly unusual discovery from the houses of this period in the Manchester region, and how it came to be lost or thrown away in the backyard is unknown.
"Archaeology can only take us so far in revealing the history of an object."
'Brought to life'
The 11 digs to be undertaken as part of the £400,000 four-year project are limited to two weeks each, which sometimes means a site has to be left after revealing only a tantalising taste of what could be buried there.
The Dig Greater Manchester team was brought in to aid local history group Tameside Local History Forum in excavating 17th Century Newton Hall, but on the final day a wall from a potentially Medieval building was discovered.
"We didn't have time to investigate but hope to go back," Mr Grimsditch said. "We also found a late 19th Century addition to the hall of a cellar and one of the volunteers who had lived there during the war said her family used to take cover down there during the blitz, so history was really brought to life."
The next dig is taking place at the site of Chadderton Hall for the next two weeks and exciting finds are anticipated as, since the 13th Century, it has been used as a stately residence, menagerie, boarding school, pickle factory and barracks during World War I.
Project leaders hope that by the end of 2015 they will have about 9,000 new, enthusiastic amateur archaeologists and historians, and a new database about the history of the county available online.
"To do a whole run within a small area like this is fairly unique," said Mr Grimsditch. "We've been surprised at how popular it's been so in future we hope to carry on and take it to the next level."