David Short murder: Reward doubled to £50,000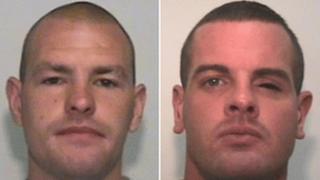 A reward offered by police for information leading to the arrest of two men wanted over a murder in Manchester has been doubled to £50,000.
Officers are searching for Dale Cregan, 29, from Droylsden, and Anthony Wilkinson, 33, from Beswick, in connection with David Short's death.
Mr Short, 46, was found dead at a house in Folkestone Road East, Clayton, after a blast was heard on 10 August.
The reward is the largest ever offered by Greater Manchester Police (GMP).
Four people aged 19, 25, 28 and 37 have been arrested over the murder and bailed.
A 24-year-old was arrested on Thursday and charged with murder on Saturday.
Explosion injury
Mr Short's body was found after police were called to the house in Clayton following reports of gunshots.
There had also been an explosion at the address.
A post-mortem examination concluded Mr Short died from multiple gunshot wounds and an explosion injury.
Several hundred officers and staff are involved in the large-scale policing operation to find the two suspects, with officers drafted in from other forces to provide support.
Mr Cregan is also wanted in connection with the death of Mr Short's son Mark, who was killed in a shooting at the Cotton Tree pub, in Droylsden, on 25 May.
Four people have been charged over the murder of Mark Short.
Assistant Chief Constable Garry Shewan said: "The £50,000 is the largest sum of money GMP has ever offered for information leading to the arrest of any individuals.
"Somebody in the communities of Manchester knows where Cregan and Wilkinson are hiding and we are urging these people direct to do the right thing."
He added: "It is highly unusual to offer such a large sum, but we understand people are worried about their safety when providing information to the police.
"That is why the information can be given anonymously through Crimestoppers."