Manchester postman stole 70,000 items of mail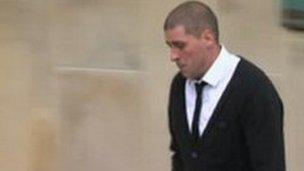 A Manchester postman has been jailed for nine months after admitting stealing 70,000 items of post.
John Hodson, 33, from Crumpsall, was caught after the Royal Mail hid tracking devices in his deliveries.
He pleaded guilty to two charges of theft and a charge of delaying mail under the Postal Services Act.
Hodson told Bolton Crown Court he stole some of the items, including greeting cards containing cash, because he had debts which had spiralled to £40,000.
The court heard Hodson began storing items about five years so that he did not have to deliver them.
He hid the items in his shed and garden. About a year ago he started stealing addressed items of post, which also included store vouchers and DVDs, to try to pay off debts.
Judge Peter Davies said: "The public are entitled to expect a reliable, efficient, confidential and trustworthy service.
"We rely on the postal service. Postmen do act with integrity - you let them all down."
He also described Hodson's actions as a "gross breach of trust".
The court heard 65,000 of the items stolen were junk mail.
A Royal Mail spokesperson said: "Royal Mail has a zero tolerance approach to any dishonesty and that stance is shared by the overwhelming majority of postmen and women, who are honest and hardworking and who do all they can to protect the mail and deliver it safely.
"We will always seek to prosecute the tiny minority of people who abuse their position of trust."
Hodson offered to pay his pension savings back to the Royal Mail.
Related Internet Links
The BBC is not responsible for the content of external sites.