Manchester City's academy expansion gets go-ahead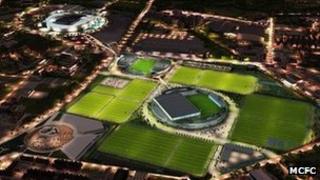 Manchester City's plans to build a training academy have been given the go-ahead by the government.
The plans had stalled after landowners initially refused to sell their plots to the football club.
They dropped their objections in May and the Secretary of State has now granted a compulsory purchase order, allowing building to start.
The scheme involves building a 7,000-seat stadium and 17 pitches near the club's stadium.
Eddie Smith, chief executive of urban regeneration company New East Manchester, said: "Manchester City Football Club's plans in east Manchester are a hugely important ingredient of the ongoing regeneration of the area, which will see not only world-class leisure and educational facilities for the community, but also jobs for local people.
"We worked with the club to help relocate existing business and sustain existing jobs and are pleased that the Secretary of State has reached a decision in the public interest which will enable this ambitious scheme to move forwards."