Sahar Daftary inquest: Coroner records open verdict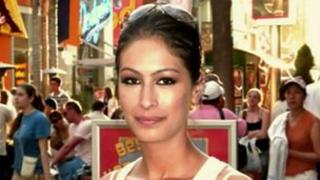 A coroner has recorded an open verdict at the inquest of a model who died in a fall from a block of flats in Salford.
Sahar Daftary, from Brentford, west London, fell from the balcony of Rashid Jamil's apartment on the 12th floor of the NV Buildings in December 2008.
Alison Hewitt, the assistant deputy coroner of Bolton, said she could not be certain Ms Daftary was unlawfully killed or had taken her own life.
Ms Daftary, 23, was a former winner of the Face of Asia beauty competition.
She had left Mr Jamil two weeks after a 2007 Islamic wedding ceremony, which had no legal status in the UK, and gone to live with her mother in London.
A statement read by the Daftary family solicitor Richard Slade after the inquest claimed the police did not take the "minimum mandatory steps required" to investigate Ms Daftary's death.
'Thorough investigation'
He said the family would be considering its next move.
Mr Jamil's solicitor Eric Shannon said: "A very thorough police investigation cleared him, and the coroner in a careful and extensive hearing has made no finding of wrongdoing against him."
Greater Manchester Police Assistant Chief Constable Terry Sweeney said: "First and foremost, our thoughts and condolences remain with the family following their devastating loss. It has been an extremely painful time for them.
"Following Sahar's tragic death in December 2008, a thorough investigation was carried out by police in Salford.
"A file was prepared for the Crown Prosecution Service (CPS) who reviewed the case and decided that no charges should be brought against a man who assisted us with these complex and sensitive inquiries.
"As recently as this month, Greater Manchester Police carried out an internal review of the investigation which also concluded that every possible line of inquiry was thoroughly looked into by detectives."