Eccles servant girl: 'Butterfly coming out of a chrysalis'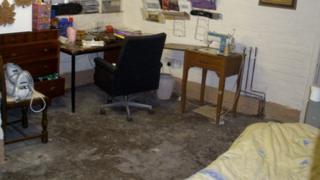 A couple who kept a 10-year-old Pakistani girl in their house as forced labour for nearly a decade, during which time she was repeatedly raped, have been found guilty. Four years after the girl was discovered, social services staff say she has made a remarkable recovery.
When investigators found a woman who was kept as a domestic servant and forced to sleep in a cellar in Salford, Greater Manchester, she had no way of telling them what had happened to her.
The deaf woman, found in 2009 and now in her early 20s, could only express herself using facial expressions, through drawing pictures and her body language.
It was only through weeks of support from a tutor that details about what the young woman had been through started to emerge.
At the age of 10, she was trafficked from her home in Pakistan by Ilyas and Tallat Ashar and worked for the couple for the next decade.
Sue Lightup, head of Salford City Council's social services department, which has taught her sign language since her discovery, said her progress was like "a butterfly coming out of a chrysalis".
Mrs Lightup said: "You can see the difference from someone who couldn't speak, read or write, lip-read, could only communicate in informal gestures to someone who has learned to sign, and grown in confidence to become a strong person, strong enough to give testimony in court.
"It's a contrast to someone who scuttles to sit on a stool in a corner of a kitchen."
The victim, who cannot be named for legal reasons, was repeatedly raped by Ilyas Ashar, 84, at his home on Cromwell Road, Eccles.
Ilyas and his wife Tallat Ashar, 68, used her to cook and clean at a number of properties they owned. She slept in the basement at night, despite there being spare bedrooms at the property.
Benefits were also claimed in the victim's name, which the woman did not receive.
She was only found after trading standards officers searched the property while investigating allegations of illegal activity.
'Exploited in every way'
Adult services at the council worked closely with Greater Manchester Police to make sure she was able to be interviewed by police about her experiences.
Greater Manchester Police have paid tribute to the young woman for disclosing the "horrendous ordeal" she went through.
Det Insp Nicola Fagan said: "The family exploited her in every way, using her disability as a shield to get away with what they were doing.
"Within three months, she went from not being understood to giving interviews about serious issues against her, which shows how bright she is."
She was discovered on a camp bed in the cellar of the house, a space described as cold and dark with a small amount of furniture.
After just three months of teaching, the woman's communication skills had improved sufficiently for her to be interviewed by police.
Officers spoke to her seven times, during carefully planned sessions involving a sign language interpreter.
After the woman was taken from the Ashars, the couple protested vigorously about the decision.
They contacted the police, Salford City Council and a local MP to try to get her back.
Mrs Lightup said the woman had just grown and grown since leaving the couple.
She said: "She has blossomed. It's been a revelation and a joy to see how she has developed as an individual.
"She is a vulnerable person, so we still have responsibilities for her, but as an adult she can also make her own decisions."