Alan Turing pardon campaign goes to House of Lords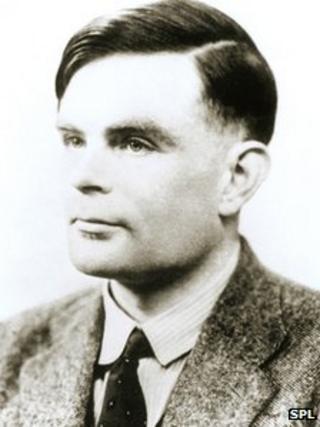 Campaigners fighting to get a pardon for computer pioneer Alan Turing have taken their fight to the House of Lords.
The gay codebreaker was convicted of gross indecency in 1952, when homosexual acts were illegal in the UK.
He died from cyanide poisoning two years later and it was ruled at his inquest that he had committed suicide.
A private members bill to grant him a pardon has been introduced in the Lords by Liberal Democrat Peer Lord Sharkey.
Manchester Withington MP John Leech, who is backing the campaign, said he would then take the bill through the House of Commons to make it law.
'Utterly unfair'
He said: "Given the all party support for the campaign, I fully expect the bill to be passed."
The Liberal Democrat MP has previously tabled an early day motion calling for Turing to be pardoned, saying his persecution "by the state for being gay is a scandal that shouldn't be allowed to stand".
An online petition set up by his constituent Will Jones has also attracted more than 35,000 signatures.
Earlier calls by Lord Sharkey for Mr Turing to be granted an official pardon were turned down in February, when Justice Minister Lord McNally dismissed a similar motion in the House of Lords.
Lord Sharkey's new motion is called the Alan Turing (Statutory Pardon) Bill.
Mr Turing worked as part of the team which cracked the Enigma code at Bletchley Park in World War II and went on to help create the world's first modern computer, the Manchester Small-Scale Experimental Machine.
He also invented a test for artificial intelligence, which is still used in computer science.
In 2009 former Prime Minister Gordon Brown issued an official apology to Mr Turing, labelling the treatment he had received as "utterly unfair" and "appalling".