Plan to heat Manchester homes with a geothermal spring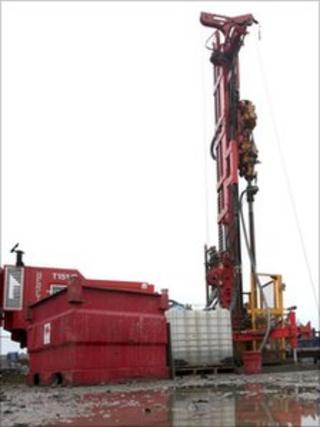 Plans to drill boreholes in Manchester city centre to extract underground heat for 6,000 homes and businesses have been unveiled.
Two rigs in the Ardwick area would drill down 3km (2 miles) to a thermal spring in the multi-million pound plan.
A network of underground pipes would take the heat to homes in the Ardwick and Oxford Road Corridor areas.
Developer GT Energy says accessing the renewable heat source will reduce energy costs for residents.
Chief executive officer Padraig Hanly said: "Hidden beneath the streets of Manchester is a massive natural energy resource that we propose to tap into to create a leading facility that will put the supply and control of heating directly into the local community.
"It will put Manchester at the heart of a new wave of geothermal projects which will develop throughout the country in response to rising prices, the need to secure energy supplies and to tackle fuel poverty."
'Innovative project'
Energy Minister Greg Barker said it would be one of the largest geothermal projects in the country.
Drilling rigs are 40m (130ft) high, the plant would take 12 months to build and take up an acre during that time and half an acre after.
The water temperature underground, in the ancient Cheshire Basin reservoir, is about 100C (212F).
Mr Barker added: "This is exactly the sort of innovative green project we want to see sprouting up across the country."
One geothermal plant is already in operation in Southampton, and another is in development in Newcastle.
There are 210 similar projects in operation across Europe, with 4,000 more in the planning.
The developer is holding a public consultation on the plans on 20 July, ahead of submitting a planning application to Manchester City Council.