Johnny Marr to get University of Salford doctorate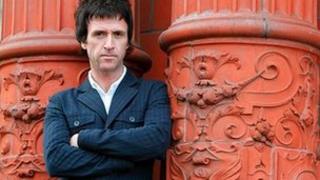 Johnny Marr, the former guitarist of Manchester band The Smiths, is to be given an honorary doctorate by the University of Salford.
Marr will receive a doctorate of arts as part of the university's July graduation ceremonies.
The 48-year-old, who became a visiting professor at the university in 2007, said he was "very pleased" to have been granted the doctorate.
The university said the honour was for Marr's "outstanding achievements".
Marr was born John Maher in Manchester in 1963 but changed his surname to avoid confusion with his namesake in Mancunian punk band Buzzcocks.
'Fourth best'
He made his name as a member of The Smiths during the mid 1980s, forming one half of a prolific songwriting partnership with Morrissey.
He then moved on to work with a variety of other artists, including Talking Heads, Bryan Ferry, Pet Shop Boys, Tom Jones and Beck.
He was also a member of Electronic, alongside New Order frontman Bernard Sumner, and indie band The The, before working with American indie rockers Modest Mouse, British three piece-The Cribs and New Zealand's Crowded House.
In 2010, Marr was voted the fourth best guitarist of the past 30 years in a BBC 6 Music poll and he has been cited as an influence by the likes of former Suede guitarist Bernard Butler and fellow Manchester musician Noel Gallagher.
He will receive his degree at a ceremony on 19 July.