Oldham explosion: Fund for blast victims 'overwhelmed'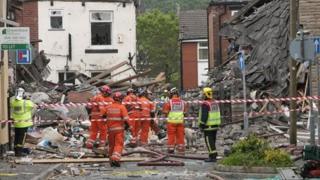 A hardship fund for those affected by an explosion in Greater Manchester on Tuesday has been "overwhelmed" with donations, Oldham Council says.
Jamie Heaton, two, died and Andrew Partington, 27, suffered serious burns in the blast in Shaw, which destroyed their homes and damaged other houses.
The council said financial support for residents could be made available early next week.
Those facing severe hardship may be able to receive immediate help.
Some 175 houses were evacuated after the suspected gas blast in Buckley Street.
On Friday, nearly 40 homes in nearby Oak Street had been reoccupied, as well as the whole of Gordon Street.
A spokesman for the council said: "Oldham Council has been overwhelmed by public donations to support the people affected by this week's explosion in Shaw.
"From today we are accepting applications from affected residents for support from the Oldham Distress Fund.
"Staff are on hand at the advice centre on Farrow Street and will help affected residents to complete the application forms for monetary support."
The council has not given a total figure for the amount raised by the fund.
It said household items including furniture had also been donated by the public and would be made available to those who needed them.
Jamie died while watching TV at home but his mother survived after stepping out to hang out washing in the yard.
On Friday, Jamie's parents Michelle and Ken visited the scene of the blast to look at messages and flowers left in tribute to Jamie.
The couple described him as "a happy little boy, mischievous and full of life".
Mr Partington remains unconscious and sedated at Wythenshawe Hospital, where he is being treated for serious burns.
A local man, who inspected a boiler in the house where the explosion happened, was freed on police bail on Thursday following his arrest on suspicion of manslaughter.
Greater Manchester Police said the man was held in London but his arrest was "only one line of inquiry".