Anuj Bidve murder trial: Friend's 'shock' at shooting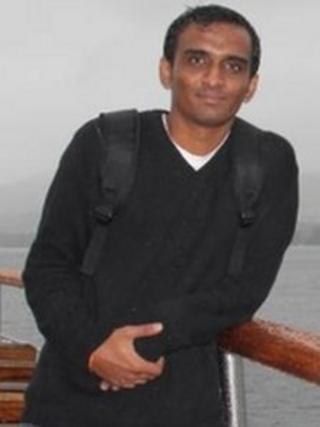 A friend of the man accused of murdering Anuj Bidve in the street said he was "shocked" at what he witnessed, Manchester Crown Court has heard.
Kiaran Stapleton killed the Indian student with a single shot to the head in Ordsall, Salford, on 26 December.
Mr Stapleton, 21, admits manslaughter due to diminished responsibility but denies murder.
His friend, Ryan Holden, later confessed to his mother he had been at the scene of the shooting.
Mr Holden, 20, said he was with Mr Stapleton on the opposite side of the road but level with Mr Bidve and eight fellow students from Lancaster University, when Mr Stapleton said to him "wait here a minute".
"He crossed over the road, I stayed on the other side," Mr Holden told the court.
"It looked like he asked for the time. He pulled up his arm, I couldn't hear him.
'Felt sick'
"The next minute I saw him put his hand in his jacket. He reached his arm out and I heard a loud bang.
"I ran straightaway. It was mad, I felt like I was there for ages but it was like a split second. I just bolted and ran."
Mr Stapleton caught up with him and they went to the former's house in nearby Regent Square.
Mr Holden said when they got to the house he was "panicking a bit" and that Mr Stapleton had sworn at him and said "don't fold on me".
The prosecution witness said he had known Mr Stapleton for a long time.
His cousin, Chelsea Holden, had been in a four-year relationship with the defendant and they had a daughter together but had split up.
He said the pair had spent part of Christmas Day together at a mutual friend's house and recalled Mr Stapleton becoming angry when someone made a remark that Miss Holden had slept with someone else during their relationship.
Mr Holden said: "He said if he sees the guy he would kill him.
"He said it had been the worst year of his life."
Mr Stapleton had a shower at his house on the night of the shooting and asked him to do the same, he said.
When he came back the clothes he was wearing and the bag he was carrying had gone.
They slept in his bedroom but did not get much sleep, he continued.
Later that morning he said he "felt sick" and "horrible".
A friend picked them up and they spent the night at his home in Leigh, Greater Manchester.
The court heard Mr Holden returned home the following day and confessed to his mother he had been at the scene of the shooting.
Mr Bidve had been walking from a hotel in Salford, where he and friends had been staying for Christmas, when he was killed.
They had been going to the sales in Manchester city centre in the early hours of Boxing Day.
Mr Bidve's parents, Subhash and Yogini, have flown from India to attend the trial.
The trial was adjourned until Monday.