Alan Turing plaque unveiled at Manchester University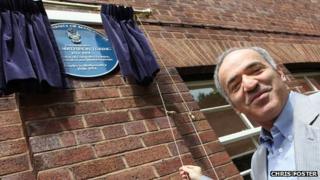 A blue plaque to a mathematical genius has been unveiled at Manchester University by a chess grandmaster.
The plaque to Alan Turing was put on public display on the centenary of his birth, by Garry Kasparov.
Turing, famed for breaking the codes of the Germans during World War II, spent the last six years of his life working at the university.
He was also seen as the father of the modern computer and a pioneer of work on artificial intelligence.
The unveiling formed part of a four-day conference at the university to celebrate Turing's work.
Kasparov is one of a number of speakers at the event, which also include Dr Vint Cerf, senior vice-president of Google and Turing's biographer, Jack Copeland.
Turing joined the university in 1948, the same year Tom Kilburn and Freddie Williams built the Baby at the University - the world's first computer with memory-stored programs.
Along with his work with them, he also made extensive contributions to mathematics and mathematical logic, philosophy, theoretical biology, and the study of the mind.