Manchester council denies 'cultural vandalism' at library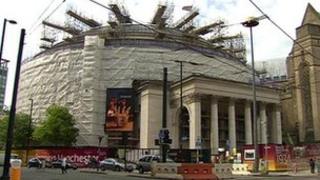 A council has denied "cultural vandalism" after critics including the poet laureate said it had destroyed important books.
Manchester Central Library's reference and non-fiction stock is being assessed as part of its £60m refurbishment.
City council head of libraries Neil MacInnes said all rare, valuable and historic collections would be kept.
A petition signed by poet laureate Carol Ann Duffy is calling for a public consultation on the review.
The petition also calls for subject specialists to be used in the review, a move which the council said it was already doing.
Publisher Kevin Duffy, who has circulated a letter accusing the council of "cultural vandalism on an industrial scale", said campaigners were not against reviewing the catalogue, but said there had been no public consultation.
"We want subject specialists to be employed to go through all the books and decide what is relevant, what is essential and what should stay," he said.
A library spokesman said a full-time team of five people - with 130 years of library experience between them - were going through the items.
'Obsolete items'
Extra specialists were also being brought in when required.
Mr MacInnes said: "We are creating a world-class modern library fit for the 21st Century, improving access to this gem of a building and the treasures it houses and enhancing the services we deliver from it.
"Despite the alarmist claims which are being made in some quarters, we can reassure people that all rare, valuable, historic and local history collections will be kept."
He added: "While it is correct that some of the items which have been amassed over time will not be returning, these are obsolete items such as outdated reference books, duplicates such as paperbacks we have in hardback or books in such poor condition it would not be viable to repair them.
"The idea that the library will be saying goodbye to valuable stock is just plain wrong."
About 300,000 items are being reviewed as part of the housekeeping exercise, but the final number which will be disposed of is believed to be closer to 200,000.
Mr MacInnes denied books had been destroyed.
"The transformation is allowing us to carry out a much-need housekeeping exercise ensuring the collection remains relevant," he said.