Homes to get Manchester Airport runway compensation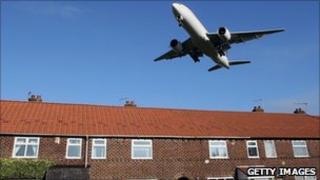 Nearly 600 homeowners and six schools in Knutsford and Mobberley are to get a pay out for the building of Manchester Airport's second runway.
The householders, who claimed their properties were devalued due to the noise from the planes since the runway opened in 2001, will get £1,500 each.
Six local schools will also receive £1,300 each from the airport's owner The Manchester Airports Group.
Two years ago 300 Knutsford and Mobberley residents were compensated.
Five hundred and eighty-three households are to receive payments under the deal brokered by local MP and Chancellor of the Exchequer George Osborne and Jeff Gazzard, from the Manchester Airport Environment Network.
"It is a very acceptable final line to draw under second runway compensation," said Mr Gazzard.
'Legal inequity'
Roisin Moores, head teacher of St Vincent de Paul Primary in Knutsford, who speaks on behalf of the six schools affected, said the runway had had a marked impact on teaching.
"You can always guarantee that there will be a certain time in the day when you have to stop talking in the classroom," she said.
A Manchester Airports Group statement said: "The legal process for Runway two claims formally concluded in 2010.
"However, since then, George Osborne MP and Jeff Gazzard have presented us with a convincing case which showed inequity in the legal process.
"We've now agreed with them a final package of benefits as a goodwill payment.
"We hope that this demonstrates our commitment to work with our local communities and finally draws a line under this process."