Merseyside marks Queen's Diamond Jubilee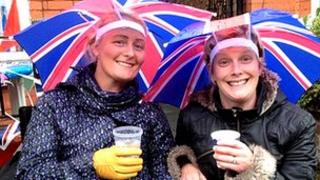 Merseyside residents have celebrated the Queen's Diamond Jubilee with events and street parties.
There were 39 applications to Liverpool City Council to hold parties in streets or neighbourhoods.
People in Toxteth said that the poor weather did not derail their plans.
Valerie Watson, organiser of the party in Carter Street, said: "We won't let the weather stop us - we are still going to have a party."
She added: "People are making the sandwiches, we are hanging out the decorations.
"We're holding off putting the best tables out until the last minute but nobody is losing faith."
Liverpool Lord Mayor Sharon Sullivan said: "Liverpool people have a real warmth and admiration for the Queen and the Royal Family."
'All decked out'
Mrs Sullivan said Liverpool's love of the monarchy was "demonstrated by the numbers who came out to greet Her Majesty and the Duke of Edinburgh on their recent visit to the city only a few weeks ago".
In Liverpool's Chavasse Park, where the The Big Lunch took place, people got the chance to cook with a royal flavour thanks to cookery school Can Cook which ran a series of workshops.
"We're doing Coronation chicken curry, which always goes down well, and royal rhubarb crumble, which is a bit rich but is a treat," said Robbie Davison, of Can Cook.
Also in Chavasse Park, Peter Edwards, from Burnley, said he was impressed with Liverpool's celebrations of the royal milestone.
'Excited for weeks'
"I particularly like anything that Liverpool puts on. It's a shame about the weather though."
In Birkenhead the weather did not dampen the festivities.
Mark Evans, of St George's Avenue, said: "All the children have been excited for weeks and weeks so we are going to make the most of it."
On Monday residents from Selby Road in the Orrell Park area of Liverpool hope to put weeks of misery caused by roadworks behind them.
Party organiser and resident Paula Blair said: "The road has been dug up over the past few months and we have had to spend our days looking out at unsightly railings, so seeing the road all decked out in bunting and balloons will be a refreshing change."
On Monday eight beacons will be lit along the Pier Head, alongside more than 4,000 across the UK.
See all the latest Diamond Jubilee news and features at bbc.co.uk/diamondjubilee