PC saves driver from M60 bridge drop burning car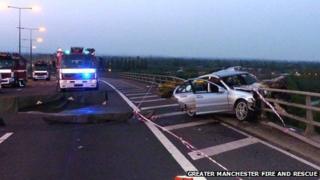 Tributes have been paid to the bravery of a police officer who pulled a driver from a burning car as it teetered on the edge of a motorway bridge.
PC Sharon Price has been praised by senior officers for saving the motorist whose car was hanging on the Barton High Level Bridge on the M60.
The car hit the guard rails after a collision with a van on Sunday.
"Her swift and brave actions ensured the motorist only suffered minor injuries," said Ch Insp Rachel Buckle.
The incident took place near Barton, Greater Manchester on a bridge with a 100ft (30m) drop.
PC Price, said: "I saw the Mercedes hanging over the edge of the bridge and could see it was on fire.
"I realised that the driver was still in his seat and my main concern was to get him out quickly as I thought the car might explode.
"A man helped me to pull him out of the car from where he was pinned by the motorway barrier and we carried him down the road to a safe place."
Ch Insp Buckle said PC Price's action was a perfect demonstration of the dangers faced by officers every day.
She added: "Without a moment's thought for her own safety she went into rescue mode and pulled this man from the wreckage of the burning car."