Droylsden pub shooting kills one and injures three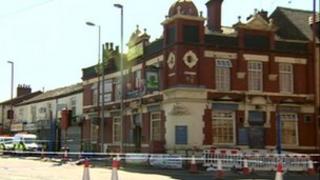 A man has been shot dead by a masked gunman at a 60th birthday party in a pub in Greater Manchester.
Police said a gunman opened fire at a group of men at the private party in the Cotton Tree Inn in Droylsden at about 23:50 BST on Friday.
The man, named locally as Mark Short, 23, died at the scene while three other men, thought to be aged in their 20s, suffered minor injuries.
Greater Manchester Police said it believed it was a targeted attack.
Ch Supt Nick Adderley said: "We don't believe this to be a random attack, although we are not clear about who the intended victim was.
'Miss you always'
"We understand this was a family occasion and that a lone gunman walked into the premises and opened fire using a revolver on a group of males stood by the pool table."
Between 20 and 30 people, aged 18 to 65, are thought to have been in the pub at the time.
Mr Adderley said officers were keeping an open mind about the motive but said all the victims were known to the police.
He added: "The Cotton Tree Inn is not considered to be an at risk pub by police and Droylsden is a tight-knit community which makes this incident even more shocking."
Floral tributes have been left at the scene. One read: "To Mark. Rest in peace. Love and miss you always."
Another read: "Bye Mark. So sad. May you have a bed in heaven. All my love."
Assistant Chief Constable Garry Shewan said the gunman had "not thought twice about opening fire in a crowded pub".
Mr Shewan said extra officers were on patrol in the area and a murder investigation had been launched.
He said: "I want to reassure the public that we will commit the full resources of our major incident team to investigate this incident.
"We are in the very early stages of this inquiry so to speculate on a motive would not be helpful to our investigation, the victims and their families or the local community."
Police said the gunman, who was wearing a balaclava, escaped in a Ford Focus which is believed to have two people inside. It was later found abandoned and alight on Ellison Close, Hattersley.
Two of the men, who are aged 25 and 26, suffered bullet wounds to their leg and the third man, aged 29, suffered a bullet wound to his lower back.
They remain in hospital under armed police guard.