New design for Manchester's St Peter's Square revealed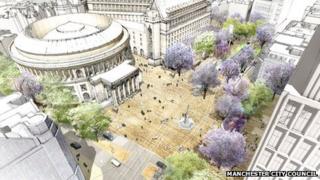 The refurbishment of a Manchester square will see a "carpet of paving" and "grove of decorative trees" added and the cenotaph moved.
The new plan for St Peter's Square, which is next to the Town Hall, has been announced by the city's council.
Council leader Sir Richard Leese said the design by German architects Latz + Partner would allow the square to live up to its "full potential".
Work to bring the plans to life is due to begin later in the year.
The redesign will see the existing Metrolink stop moved from the Oxford Street end of the space to the corner of Princess Street and Mosley Street.
A council spokesman said it would also see the cenotaph "sensitively relocated within the square" and a new monument to the Peterloo Massacre, which is still being developed, added.
A plinth, equal to the height of the adjacent Central Library's colonnade will also be added to raise the height of the cross marking the historic site of St Peter's Church, after which the square is named.
He added that the trees would be positioned to "frame views and complement existing trees" and the paving would "blend the square in with nearby areas".
Sir Richard said the redesign had been ordered because the square was "an important public space which has not been living up to anything like its full potential".
Latz + Partner were one of five companies to submit a design for the square to the council in 2010.
Project lead Sonja Hlawna said the company was "honoured to have the task of turning Manchester's vision to create a world-class space into reality".