Playwright Lydia Besong wins asylum seeker status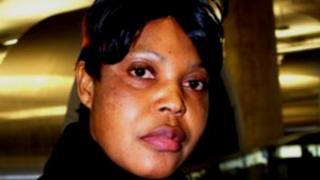 A Cameroonian playwright and her husband, who were hours away from deportation from the UK, have won the right to political asylum.
Lydia Besong and husband Bernard, who live in Bury, Greater Manchester, were granted a judicial review in January as they were due to be deported.
The UK Border Agency said it was disappointed that an asylum tribunal had ruled in the couple's favour.
The Cameroon High Commission said the country respected human rights.
"The tribunal has recognised that Lydia and Bernard's political and cultural activities will place them at risk if they are returned to Cameroon," said their solicitor Gary McIndoe.
"This is a deeply important victory for everyone interested in ensuring the safety of our refugees," he added.
The couple, who came to the UK in 2006, argued they would be tortured and beaten if they were returned to Cameroon.
Their high-profile supporters included actor Juliet Stevenson, author Nick Hornby and playwright Alan Ayckbourn.
The couple, who were released from Yarl's Wood Detention Centre in Bedfordshire in January, had been due to be put on a flight to Cameroon.
'Lenient system'
They belong to the Southern Cameroon National Council (SCNC), an organisation campaigning for the rights of the country's minority English-speaking population in the largely French-speaking African state.
The group is illegal because it advocates secession for two English-speaking provinces.
Mrs Besong who was an English lecturer in Cameroon, has written plays in the UK including How I Became An Asylum Seeker and Down With The Dictator, which was performed recently in Manchester.
Nkwelle Ekaney, the Cameroon High Commissioner for the UK, rejected the couple's claims.
"After a series of meticulous investigations, the Home Office came to the conclusion that over the years, Cameroonian asylum seekers had been taking advantage of the leniency of the system to use human rights abuse as the most expedient and guaranteed method to acquire asylum status in the United Kingdom," he said.
"Cameroon is a country that respects human rights and the rule of law and also adheres to relevant treaties and international conventions that respect the integrity and dignity of the human person," he said.