Wythenshawe shooting: Pair jailed for Ian Taylor murder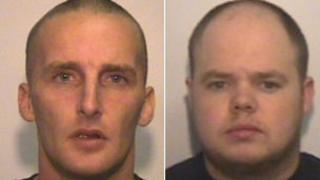 Two men have been jailed for life after shooting a man dead in a family feud.
Ian Taylor, 44, was in a parked car on Floatshall Road, Wythenshawe, Manchester when shots were fired on 13 June.
The judge at Manchester Crown Court sentenced Mr Taylor's nephew Stuart Horner, 32, of Benchill, who admitted murder, to a minimum of 27 years.
Derek Cotterill, 27, of Woodhouse Park, who denied murder, will serve at least 23 years.
'Completely exposed'
A third man, Nathan Frazer, 19, of Woodhouse Park, was found not guilty of murder.
Police said Mr Taylor was shot dead over a dispute with Horner which dated back to November 2010.
He was killed when at least one shot was fired from what police believe to be a shotgun.
Det Supt Julian Ross said: "We know Ian was involved in a long-running family feud with his nephew Horner, but absolutely nothing can justify their murderous actions that night.
"They must have known that firing a gun could have had fatal consequences but that did not stop them, and in doing so have taken Ian away from his children and his sisters forever."
Police said the murder weapon has never been found and they are still trying to locate it.