New skin graft treatment 'heals' leg ulcers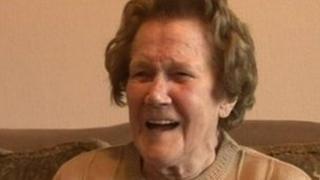 A great-grandmother from Manchester is believed to be the first person in the UK to be healed by a new treatment for chronic leg ulcers.
Jessie Townley, 92, had an hour-long operation involving a new form of skin graft known as decellularised dermis.
The treatment involves taking cells from deceased skin donors.
Mrs Townley is the first patient to make a full recovery after taking part in a clinical trial at University Hospital South Manchester.
One of 20 people taking part in the trial, Mrs Townley said she had suffered ulcers on her right leg for 20 years and the treatment had given her a "new lease of life".
"Anyone who has had leg ulcers as long as I have will know how rotten it can be," she said.
"I have needed clean dressings twice a week and that has meant trips to hospital."
She said she thought the new treatment "might not work for me but it could help younger folk".
"I am delighted with the results and I feel so grateful."
With decellularised dermis, the donor's cells are removed from the skin and made into thin sheets by the NHS Blood and Transplant Service, based in Liverpool.
Mr Ardeshir Bayat, who is leading the trial, said: "Decellularised dermis is applied to a leg ulcer to 'kick start' healing in wounds which have become static and resistant to traditional treatments.
"We are delighted not only with Jessie's results, but also with the preliminary finding of other patients on the study."