Fire crews in training exercises in Greater Manchester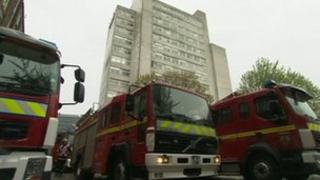 Firefighters have been taking part in a large-scale training exercise in Greater Manchester.
Up to 30 crews were called to deal with two mock blazes, started simultaneously in disused buildings.
One was in a high-rise block of flats in Salford and the other was in former student halls on Mancunian Way.
Greater Manchester Fire and Rescue Service said both scenes were transformed into major fire scenes with smoke machines and dummy casualties.
The service said it was designed to test the service's resilience and capability, while at the same time maintaining normal operations across the county.
Banners were in place around the locations to warn the public that the "fires" were a training exercise and not real incidents.
The two-hour exercise - which was the biggest ever undertaken by the fire service - began at 09:30 BST.