Pro-Palestinian activists refused Israel flight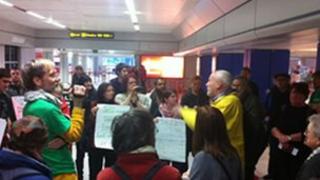 Members of a pro-Palestinian campaign group have been refused travel from Manchester Airport to Israel.
Airline Jet2 said Israeli officials informed it 13 people booked on a flight to Ben Gurion airport would not be allowed into Israel.
A Jet2 spokesman said: "In light of this decision we were unable to accept them for travel."
The head of a Scottish pro-Palestine group, whose members were banned from flying, said it was atrocious.
Mick Napier and nine other people from the Scottish Palestine Solidarity Campaign were stopped by the budget airline from boarding flight LS907.
They were part of a UK contingent making its way to Bethlehem for Welcome to Palestine 2012, a week-long series of conferences and events.
Meanwhile, about 30 pro-Palestinian activists were held by security forces at Ben Gurion Airport near Tel Aviv, according to the Israeli news service Haaretz.
They had arrived on a flight from Paris on Sunday, ahead of what Israeli police had estimated would be hundreds of activists for the Welcome to Palestine protest.
Haaretz also reported that activists were turned back at Brussels airport.
'Immediate return'
Mr Napier, UK co-ordinator of the event, said: "It is atrocious that the Israeli government can coerce Jet2 to refuse to let us travel."
Jet2 said it was standard procedure to supply advance passenger information to immigration authorities.
In a statement it said: "As a result of providing that information we were informed by the Israeli authorities that 13 passengers booked to travel would not be permitted to enter Israel.
"We were further advised that, if we were to allow them to travel, we would be responsible for their immediate return to the UK."
A protest was held at Manchester Airport after the passengers were refused boarding.
Jet2 said the flight had left on schedule at 10:00 BST, but said the check-in desk had to be temporarily closed due to the protest because some passengers were "being abusive".
Mr Napier said: "We were demonstrating over our right to travel but we also had the extra provocation of Jet2 refusing to reimburse us for our flights."
The airline has now agreed to pay refunds.
"We have reviewed our policy for all passengers affected by this decision by the Israeli authorities and will be refunding in full all passengers that are unable to fly," it said.
Greater Manchester Police said officers attended "a minor incident at the airport but there were no issues or arrests".