Atiya Anjum-Wilkinson disappearance: Father given new jail term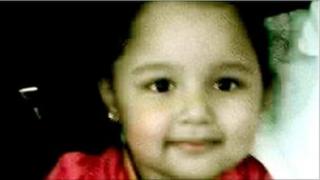 A man from Greater Manchester has been given a fourth consecutive jail term for refusing to reveal the whereabouts of his missing daughter.
Atiya Anjum-Wilkinson went missing on her third birthday two years ago.
Her father, Razwan Ali Anjum, of Ashton-under-Lyne, later indicated she was in Pakistan or Iran but has refused to disclose her exact whereabouts.
A High Court judge ruled he was in contempt of court and imposed a 12-month prison sentence.
Mr Justice Moor said Anjum, who is in his late 20s, would not be eligible for release until he had served at least six months.
He said Anjum was in contempt of a High Court order instructing him to give details of Atiya's whereabouts.
Judges have previously imposed jail terms of two years, 12 months and 12 months in the hope that Anjum would provide information so that Atiya could be reunited with her mother, Gemma Wilkinson, who is in her 30s and also from Ashton-under-Lyne.
'Absolutely absurd'
They have re-jailed Anjum as each sentence neared its end. He was due to complete half of his last sentence on Wednesday and be eligible for release but Mr Justice Moor said he could not be freed.
Ms Wilkinson, a former charity worker, took legal action in an attempt to force Anjum to reveal Atiya's whereabouts. Tuesday's hearing was the latest stage of that litigation.
One judge has previously described the case as "as bad a case of child abduction as I have encountered".
Anjum represented himself at the hearing.
"I am certain that he is in contempt," said the judge. "It is absolutely absurd for him to suggest that he does not know the whereabouts of his daughter and he cannot contact her. I am certain he is lying."
Judges have heard that Anjum's "on-off" relationship with Ms Wilkinson ended in 2008. In November 2009, Atiya vanished after going to stay with her father.
Anjum had said he was taking Atiya to Southport, Lancashire. Instead he took her to Lahore, Pakistan and told Ms Wilkinson that she was "never going to see Atiya again", courts have heard.
He had referred to Ms Wilkinson as "only or merely her birth mother", judges have heard.