Autistic teen locked in padded room by special school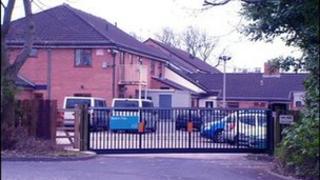 A teenager with severe autism was locked in a padded room on a frequent basis in an attempt to control his behaviour, it has been revealed.
From 2007, the teenager, now aged 19, attended a school placement organised by Wigan Council at Beech Tree special school in Preston.
A court ruling last year found, under the Human Rights Act, that Wigan Council had treated him unlawfully.
More details can now be reported, due to the lifting of an anonymity order.
'Blue room'
The man no longer attends the school, which is run by the charity Scope.
Beech Tree School is set to close in July.
His mother, who along with the man cannot be identified, said: "At least a caged animal has room to roam, and it's with other animals.
"He was solitary in that room".
She added: "It was so difficult, because I used to think to myself, what else can I do as a mother to help him?"
The dispute started in 2010 after use of "the blue room" became an increasingly regular way of dealing with his behaviour.
Ruth Sutherland, executive director of services at Scope, said it was a complex case.
Compensation agreed
She said: "The kind of behaviour that he displayed was very unpredictable, volatile and aggressive.
"Over time the case took us way beyond our experience and our expertise, and we should have recognised that."
A Wigan Council spokesman said: "The package of care at his residential school was implemented with the approval of the court and by his family."
"The council has also supported the family in accessing his present provider of care."
Wigan Council said it had agreed a sum of compensation to the man and his family.