Man arrested over body of woman on Manchester road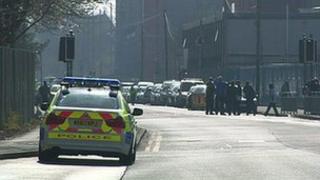 A man has been arrested on suspicion of causing the death of a woman whose remains were found on a Manchester road.
The woman, who has not been identified, was found on Upper Brook Street, Longsight at 10:00 BST on Thursday.
A 40-year-old man has been arrested on suspicion of causing death by careless driving and remains in police custody.
Police have also appealed to a man who picked up the victim's shoes to contact them.
The woman was believed to have had a black handbag, which has not yet been traced.
Supt Wasim Chaudhry said the force had released the image of the man with the shoes to try and identify him and the victim.
"This man has picked up the victim's shoes and may also have picked up the victim's handbag in good faith," he said.
"We would urge him to contact the police as soon as possible as this handbag will hold the key to who she is.
"I understand the community will be very distressed and I want to reassure local residents that we have a team of very experienced officers working on this investigation."
A 47-year-old man, who was previously arrested on suspicion of murder, has been released without charge.
A spokesman for Greater Manchester Police said the force was treating the incident as a road traffic collision.
He appealed to anyone with information about the identity of the woman to get in touch with police.
She has been described as Asian, with black hair, a pierced nose, gold bangles on each wrist, a toe ring and wearing saffron-coloured clothing. She is also thought to be local.