Salford academics face redundancy over student numbers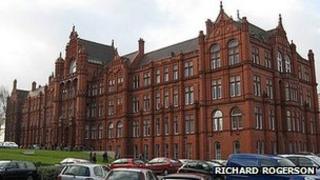 A Greater Manchester university has said staff could face compulsory redundancies because of a reduction in the number of students.
The University of Salford said enrolment numbers had dropped by the "equivalent" of 400 full-time students.
A spokeswoman said a planned reduction of academic staff was being carried out as a consequence.
A University and College Union (UCU) spokesman said it was a devastating blow to staff.
The university spokeswoman said it was "a difficult financial environment".
She said the student reduction was a "consequence of the government's core-and-margin policy [and] the unpredictability in the enrolment of students as a result of the new fees regime".
Compulsory redundancies
She said university enrolment of international students had been hit by government policies on immigration.
The university had also seen "a shortfall against target revenues for research and academic enterprise".
"We have been aware of these pressures for some time and have already been working to address these in a planned and systematic way," she said.
About 170 academics would be affected by the cuts, with potential job losses of about 65, said the university.
"Unfortunately, we cannot rule out the potential for compulsory redundancies at this stage," said the spokeswoman.
The university announced 218 job losses in 2011, having already made 150 redundancies over previous years.
UCU's regional official Martyn Moss said it was "the sixth time in less than a year that the union has been told of jobs at risk of redundancy and the staff have been left utterly demoralised".
"Such an ad hoc approach to axing staff and courses is no way to plan for the future," he said.
"We believe investment, not further cuts, is needed to place the university in a strong position for the future."