Nomination process for Salford mayor open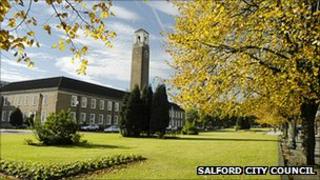 Nominations have opened for mayoral candidates to step forward in the race to become the new leader of Salford.
Voting will take place on 3 May, after a referendum held in January backed proposals for a directly-elected mayor in the city.
The elected mayor will serve the city for four years.
Those wanting to stand for the position can submit nomination papers until 4 April.
Leader of the council John Merry will not be in the running, after former Eccles MP Ian Stewart was nominated as the Labour candidate.
Two party leaders from Salford Council will also be standing; Karen Garrido from the Conservatives and Norman Owen of the Liberal Democrats.
Other candidates who have declared an interest in standing are Michael Felse of the English Democrats, The Green Party's Joe O'Neill and Eddy O'Sullivan of the BNP.
Only 18.1% of the 171,000 eligible voters took part in the January referendum.
The vote took place after a petition with 10,500 signatures was handed to the council from the English Democrat Party last July.
Elected mayors could get powers over rail and bus services, skills and apprenticeships and money to invest in high-speed broadband and other economic infrastructure.