Manchester Cathedral events make 'huge difference'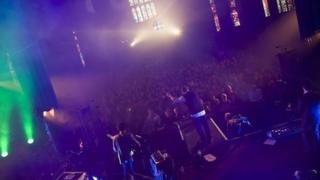 Music concerts and events have helped to make Manchester Cathedral profitable, the Dean has said.
In recent years the cathedral has increasingly been used as a venue for concerts by bands including Elbow, as well as formal dinners and awards.
The Very Reverend Rogers Govender said paid-for events had helped the cathedral's finances.
Nearly half of the cathedrals who responded to a BBC survey said they were worried about a lack of funding.
The Dean said paid-for events had helped move the cathedral's finances into the black in 2011 for the first time in a "very long time".
"It is a way of raising funds for the cathedral, but it is also a way of opening it up to other people, we see a lot of young people coming in now," he said.
The cathedral costs £1m a year to run, or about £2,800 a day.
The figures do not include costs incurred through restoration work.
Remain respectful
Sinead O'Connor recently performed to 800 people at the grade I-listed building.
Acts already booked over the next few months include Aled Jones and Marina & The Diamonds.
The Dean said they welcomed all kinds of music, as long as the lyrics did not go against what they stood for as an organisation.
A bar is also put in for the concerts, but he said visitors have remained respectful and did not overindulge.
Formal dinners for up to 960 people are held at the cathedral, which also hosts the Manchester Business Awards.
Plans are also in place for a flower festival this summer, which the cathedral hopes will turn into an annual event.
Before external events begin, a member of the clergy often gives visitors a short history of the building.
Karen Wellings, from Stretford, said she had seen the Elbow concert broadcast by the BBC last year and it had inspired her to visit the cathedral.
She now attends services on a regular basis.
She said: "Without Elbow, we wouldn't have thought about going through the door.
"I guess it can be a little intimidating at first, but once you go in it's lovely, both the people and the cathedral itself."
"It couldn't have been more welcoming, the service was amazing and we've just been embraced by them".
Mrs Wellings said she planned to get her daughter christened there.