Funeral for Nigeria kidnap victim Chris McManus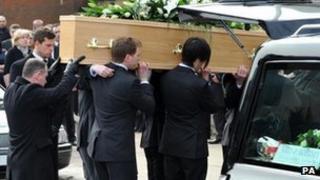 The funeral of an engineer from Greater Manchester, who was kidnapped and killed in Nigeria, has taken place.
Hostages Chris McManus, 28, from Oldham, and Italian Franco Lamolinara, 48, died on 8 March before Nigeria and UK forces were able to rescue them.
Mr McManus' parents, Michael and Laura McManus, told more than 600 mourners their son "always made people feel special" at a church service in Oldham.
They earlier praised the "bravery" of those who tried to free him.
'Loved Nigeria'
In a eulogy to him read out on their behalf at Our Lady of Mount Carmel and St Patrick RC Church, his parents said: "He treasured his family. He loved us all so much.
"He always made people feel so special and we feel privileged that we knew him."
Mr McManus and Mr Lamolinara were in Birnin Kebbi city in north west Nigeria building a bank when gunmen seized them on 12 May.
His family said he was welcomed "like a family member" by his employers and colleagues there.
"He loved Nigeria and the people and made many friends in the country."
A video was released to news media appearing to show the men blindfolded with their arms behind them. Masked men were standing behind them in the footage.
'Determination and bravery'
UK Prime Minister David Cameron said UK and Nigeria authorities launched a rescue operation after receiving "credible information about [the men's] location".
However, the hostages were already dead and the Foreign and Commonwealth Office confirmed the men were killed in Sokoto, Sokoto State, to the north east of Birnin Kebbi.
The family have said they were grateful for the "determination and bravery" of those who attempted to rescue him.
"We know that many people both here and in Nigeria worked hard to free Chris," said a family the statement.
"[He] would have been proud to know that every effort was made to try and bring him home."
One of the men suspected of planning the kidnapping of Mr McManus and Mr Lamolinara died in police custody, said the secret service.
The State Security Service said Abu Mohammed had died of gunshot wounds sustained when he was captured along with five other suspects a day before the failed attempt to rescue the captives.