DNA blunder: Man accused of rape after human error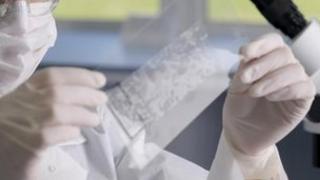 A forensic science firm which wrongly linked the DNA of a Devon man to the rape of a woman in Manchester has said the blunder was down to human error.
The 19-year-old man was facing trial for raping a woman in October in Plant Hill Park, Blackley.
The charges were dropped when it emerged a DNA sample had been contaminated at LGC Forensics in Teddington, west London.
LCG said plastic trays had been incorrectly re-used in the laboratory.
It said no other cases of contamination had been found.
New processes
The company said in a statement: "The forensic science regulator has agreed with LGC Forensics that the root cause of the contamination was human error in the incorrect re-use of plastic trays as part of the robotic DNA extraction process.
"New processes have been introduced to prevent such an error happening again and 26,000 samples that have been processed since the robotics were introduced in March 2011 have been checked to ensure they had not been contaminated.
"This checking is now complete and no other cases of contamination have been found."
It has previously said it deeply regretted the contamination.
Greater Manchester Police said the man accused of rape had told them he had never been to Manchester, but that LCG Forensics was "absolutely adamant" that was not the case.
Police then charged the man with Crown Prosecution Service support.
GMP Assistant Chief Constable Steve Heywood said it was "a tragic but isolated incident".
Philippa Jeffries, the solicitor for the man involved in the case, has called for a public inquiry and said her client was considering legal action.