Salford 'green' tower block renovation complete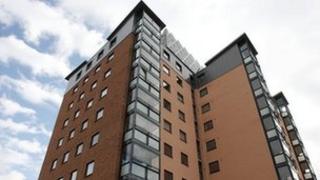 One of four tower blocks in Salford to be given an environmentally-friendly makeover has been completed.
The 1960s high-rise buildings at Barton Village, Eccles, are being refurbished to create more than 200 energy-efficient homes.
City West Housing Trust has spent £14.3m on the "green" project.
Residents who had to move out of their homes while the renovations took place are now moving back into Engels House, the first block to be completed.
City West said the 58 one and two bedroom flats had been installed with "innovative green technologies, state-of-the-art ventilation and improved security".
Each has an enclosed balcony to create an inner sun room and "energy efficient and self-cleaning" windows.
All have been fitted with new kitchens, bathrooms and radiators and the outside of the building has been wrapped with cladding to improve its thermal efficiency.
The refurbishment of Barton Village is part of a wider regeneration programme to the Barton area of Eccles, which is on the banks of the Bridgewater Canal.
The scheme also includes the demolition and relocation of a community centre in the centre of the village, and a nearby parade of shops being converted and let, with one becoming a cafe and catering training centre.