Manchester wins University Challenge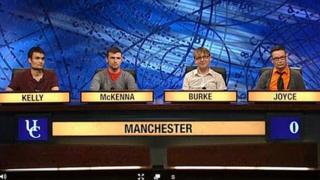 The University of Manchester has won University Challenge for the third time in seven years.
The four-man team beat Pembroke College, Cambridge in the final by 180-135, their lowest score of the series.
The trophy was presented to the Manchester scholars by the Duchess of Cornwall, who told host Jeremy Paxman she was the show's "greatest fan".
The win means Manchester is only the second university to have won the contest more than twice.
Teams from the university won it in 2006 and 2009. Last year's winner Magdalen College, Oxford has won the competition four times since the series began in 1962.
The Manchester team was led by English literature student Tristan Burke from Ilkley, West Yorkshire with Michael McKenna, from Lytham St Annes, Lancashire, Luke Kelly, from Ashford in Kent and Paul Joyce, from Chorley, Lancashire.
The team's score of 330 points against Newcastle University in the quarter finals was the highest tally of this year's contest.
Manchester has made it to at least the semi-finals every year since 2005.
One hundred and twenty teams applied this season for the BBC Two show.