London 2012: Manchester's Olympic torch route revealed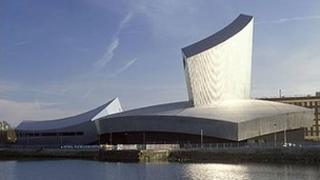 The Olympic torch will be carried past the Imperial War Museum and Old Trafford as part of its journey across Greater Manchester, Locog has said.
It will arrive in the region on 31 May and pass through Warrington, Lowton, Wigan and Bolton before continuing on its journey around the UK.
The flame will return to Manchester on 23 June for a celebration event before heading across the region on 24 June.
It will also pass through Rusholme and Stockport on its way to Oldham.
'Pleased as punch'
One of the torchbearers will be Rick Wesolowski, from Bury, who has been nominated to carry the torch for his involvement in sport.
He has taught people to swim at Ramsbottom swimming club for more than 30 years and said he was "absolutely delighted" to be given a chance to have "a slight moment of Olympic history".
Mr Wesolowski said he had been "pleased as punch" just to be nominated and to be chosen to carry the torch was "an honour".
"I can't explain how pleased I am - it's a privilege," he said.
"I'm so grateful that someone thought my story was worthy of putting forward.
"I would have loved to have coached an Olympic swimmer, but just to be part of it is unbelievable.
"When I get hold of that Olympic torch it will give me a slight moment of Olympic history."
He added that he was still hopeful of getting a ticket to one of the London 2012 swimming events, but would be "watching every minute" of the Olympics regardless, because he was a "massive sports fan".
On 24 June the torch will pass through Salford, Trafford, Moss Side, Rusholme, Longsight, Levenshulme, Stockport, Ashton-under-Lyne and Oldham.
The London 2012 Olympic Torch is made from an aluminium alloy, and features 8,000 circles representing the 8,000 people who will carry it around the UK.
The 10-week relay will see the torch cover about 8,000 miles.
London 2012 organisers Locog say the torch will come within 10 miles of 95% of the population.